Bij deze de afsluitende top 3 van Thomas:
Thomas' Artwork Top 3:
Voor mij vormt artwork vaak de brug tussen het spel en het thema. Goede artwork kan mij ertoe aanzetten op te gaan in het thema en mij voorstellingen te maken van hetgeen ik eigenlijk aan het doen ben in plaats van mij alleen te concentreren op de spelmechanieken. Of het nu een ruimtecolonie, een cyberpunk-toekomst of een stad uit de oudheid is, artwork weet mij naar een andere wereld te transporteren.
3. Imperial Settlers + uitbreidingen (Portal Games/White Goblin Games)
Trouwe lezers van Budgedspelen zijn reeds op de hoogte van mijn liefde voor dit spel. Aangezien deze liefde voor een groot deel voor rekening is van de schattige artwork mag dit spel op dit lijstje natuurlijk niet ontbreken. Welk volk je ook speelt, de grappige mannetjes en vrouwtjes maken iedere kaart die je op je hand mag nemen een feest.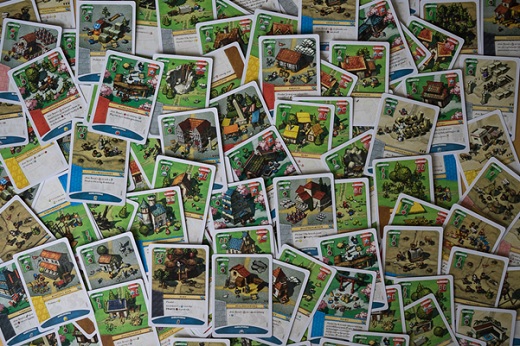 2. Android: Netrunner + uitbreidingen (Fantasy Flight Games)

Fantasy Flight Games mag natuurlijk niet ontbreken op dit lijstje en hun Living Card Games spannen de kroon qua artwork: Game of Thrones, Lord of the Rings en Star Wars hebben allemaal illustraties van de meest getalenteerde artiesten. Mijn persoonlijke favoriet is Android: Netrunner. Het cyberpunk-thema leent zich natuurlijk goed voor kleurrijke artwork maar Fantasy Flight heeft er nog een schepje bovenop gedaan.
1. Race for the Galaxy/Roll for the Galaxy + uitbreidingen (Rio Grande Games)

Niet alleen qua iconografie hoort Race for the Galaxy in dit rijtje thuis, ook de artwork op de kaarten past geweldig goed bij het thema. De artwork samen met de namen geeft dit enigszins droge spel zoveel flair en persoonlijkheid dat je echt het gevoel krijgt dat je een ruimte-emporium aan het bouwen bent.